Strikeout Cancer
---

WMBA's 2023 Strikeout Cancer Campaign!!!
This year, we're supporting our community the same way they have supported us the last 50+ years. We are running our first ever Strikeout Cancer campaign with all proceeds raised going towards supporting Childhood Cancer.
About The Campaign:
Beginning in February 2023, we will begin selling t-shirts in support of Childhood Cancer.
Get Yours Now
Cart
A mockup is pictured here Right ArrowRight Arrow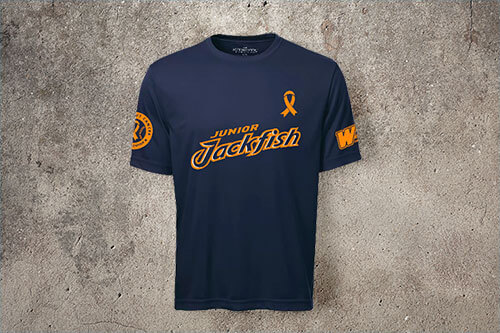 We will be outfitting our 2023 Rep Teams in similar Navy & Gold jerseys for the month of June (Cancer Survivors Month).
We will also be running draws, raffles, and fundraising towards this campaign during the month of June.
In Mid-June, our 18U Rep Team is hosting the Battle to Strikeout Cancer Tournament.
Come on out and cheer them on!
The peak of this campaign is planned to be at a Welland Jackfish game Thursday, July 13, where we will do 50/50 raffles, and hope to have a sea of Navy and Gold in the stands in support of this campaign. Also, when the campaign ends successfully, you may even find Bill Bouck (President, Welland Minor Baseball Association) and Ryan Harrison (President, Welland Jackfish) shaving our heads to cap off this successful campaign.